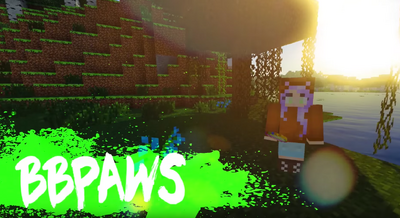 BBPaws also known as Britt is a female gamer with over 100,000 subs.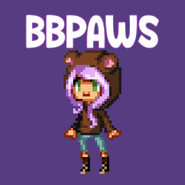 BBPaws started UHShe with Season 4, lasting untill episode 5 she managed to get one kill (Shubble), before being eliminated by RealSquig, putting her in 8th place.
In Season 5 of UHShe BBPaws was teamed up with LaurenzSide. She had extremely low health and was quickly killed by BasicallyBea (aka BeaTheCraftian). Her team came in 5th place, and she came in 9th place.
In Season 6, she lasted until episode 8, when she was killed by Banoffee. She placed 6th.
In Season 7, she died in episode 7, when she started to hunt SalemsLady. When she came close to her, she got killed after leaving her on 4 hearts. She placed 10th.
In Season 8, she teamed with Cheridet. Her team spawned nearest to the mansion, even though they were one of the last people to be there. After lasting a while, they were killed by BasicallyBea and RealSquig (Both of them were killed by BasicallyBea). Their team placed in 3rd, and BBPaws placed in 5th.
In Season 9, she teamed with Cheridet and Marielitai. Their team was the last to get diamonds. They didn't make it to the end.
Season

Kills
Cause of Death
Episode of Death
Ranking
Titles
4
1
Slain by RealSquig
5
8th
Survived To The Top 10
5
0
Slain by BeaTheCraftian
8

Team - 5th

Individual - 9th

- Best Bow

- Survived To The Top 10

6
0
Slain by Banoffee
8
6th
- Survived To The Top 10
7
0
Slain by SalemsLady
7
10th
- Survived to the Top 10
8
0
Shot by BasicallyBea
9
5th - Individual

3rd - Team

- Survived To The Top 5
9
0
N/A
N/A
10
0
Slain by Phoenixgg2
7
5th - Individual

3rd - Team
| Season | Killed Player | Episode of Death | Cause of Death |
| --- | --- | --- | --- |
| 4 | Shubble | 5 | Slain |
Social Media
Edit
Youtube - BBPaws
Twitter - BBPaws
Twitch - BBPaws
Instagram - BBPaws