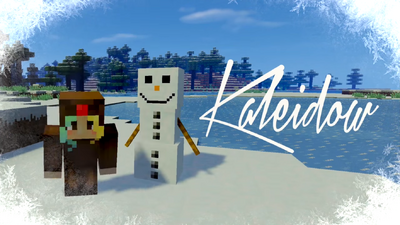 Kaleidow is a female YouTuber who first competed in UHShe Season 2.
Kaleidow was teamed with HeyimBee in Season 2 of UHShe, she managed to get 3 kills and lasted until episode 11 before being eliminated by Pip3rGames, putting Kaleidow in 4th.
In Season 3 Kaleidow had a close encounter with Yammy in episode 2 before being eliminated by the Border in episode 4, putting her in 6th place for this season.
In Season 4 of UHShe Kaleidow was eliminated by RealSquig in episode 5, putting her in 6th again.
Kaleidow didn't record her audio in Season 6, but she still did upload. She died in Episode 5 by accidentaly falling into lava, putting her in 13th Place
She competed in Season 7 and was doing pretty well and managed to get to the final 3 but was eliminated by Banoffee2013 because she kept getting teleported into the wall and into the fire that banoffee had set to kill her, putting her in 3rd place.
She was teamed with HeyimBee in Season 8 of the UHShe series but was shortly eliminated in the second episode by being shot by a skeleton shortly after Heyimbee's demise, putting her in 16th place
Kaleidow's average placement is 8th place.
It's known that other participants are intimidated by Kaleidow due to her decent bow skills.
Season
Kills
Cause of Death
Episode of Death
Ranking
Titles
2
3
Burned to death

caused by(Pip3rGames)

11
Team- 3rd

Ranking- 4th

Most Kills (Team)
3
0
Suffocated in wall (Border)
4
6th
4
0
Slain by RealSquig
5
6th
6
0
Tried to swim in lava
5
13th
7
0
Slain by banoffee2013
8
3rd
8
0
Shot by Skeleton
2
16th
Social Media
Edit
Youtube- Kaleidow
Twitter- Kaleidow
Instagram- Kaleidow
Ad blocker interference detected!
Wikia is a free-to-use site that makes money from advertising. We have a modified experience for viewers using ad blockers

Wikia is not accessible if you've made further modifications. Remove the custom ad blocker rule(s) and the page will load as expected.