Stacy Hinojosa, known by her IGN Stacyplays, is the organizer of UHShe. Her Minecraft skin was made entirely herself. It features a blue and white striped shirt, blue jeans, brown shoes, and an arrow quiver, as she prefers bow combat rather than the use of swords.
Stacy Hinojosa was born August 23, 1983. Stacy is 33 today. she is great friends with LDShadowLady, IHasCupquake & Joey Graceffa. Stacy Joined YouTube, 3 years ago...
when she was 29 when she joined Youtube.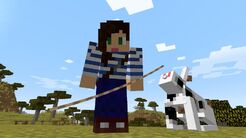 Creation
Stacy first participated in the Cube's ultra hardcore (UHC) in around 2014. However, she only participated in 4 UHC's before quitting the Cube, stating she wanted to move on to something new. After a year of being without UHC, she grew to start to miss it. She later organized the UHShe's, with the help of her mom and LearningMonkey who helped with seasons 1-3. Now Stacy has become the full host in UHShes Season 4, 5, and 6.
UHShe
Stacy, as the organizer, is to participate in any and all UHShes. Below are her stats on all games thus far.
Season
Kills
Cause of Death
Episode of Death
Ranking
Accomplishments
Titles*
1
0
Shot by Shubble
7
4th
Only person to name wolf.

-Top 5-

N/A
2
0
Shot by Heyimbee
9
Individual- 7th
-Top 10-

-Top 5 Teams-

N/A
3
0
Suffocated in Wall

(Border)

4
11th
- First Golden Apple
4
0
Slain by RealSquig
6
3rd
-Top 5-
N/A
5
1
Slain by MKtheWorst
8

Team - 2nd

Individual - 4th

- Top 5-

- Top 2 Teams-

- First Golden Apple- Most Kills (with RealSquig)

First Golden Apple
Kills
| Season | Killed Player | Episode of Death | Cause of Death |
| --- | --- | --- | --- |
| 5 | YOGSCAST Kim | 8 | Slain |
Social Media
Youtube- StacyPlays, Stacyvlogs
Twitter- Stacysays
Instagram- Stacygrams
Ad blocker interference detected!
Wikia is a free-to-use site that makes money from advertising. We have a modified experience for viewers using ad blockers

Wikia is not accessible if you've made further modifications. Remove the custom ad blocker rule(s) and the page will load as expected.