UHShe Season 7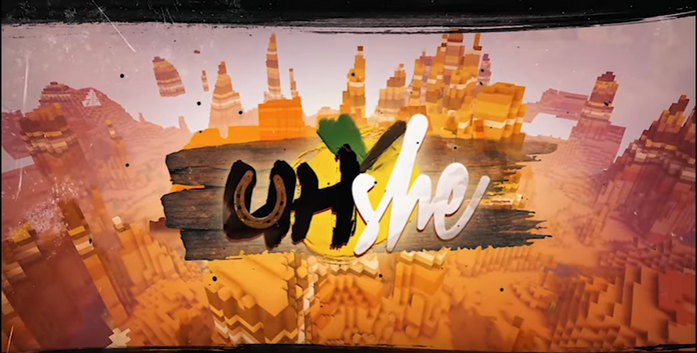 UHShe Season 7 (Wild West 2017) first aired on May 6, 2017. This season has been organised, once again, by Stacyplays, with the server being hosted by BasicallyBea, helping to organise it also. Alongside them, the intro was made by SkyFinMedia.
UHShe is a fight for to the death against all the players, however the tricky twist is that you can only revive your hearts by golden head or golden apple. There is a 1 episode grace period in which PVP is not allowed. This season is cutclean, meaning that ores and animal food drops come fully smelted, andesite and granite drop as cobblestone, and every player starts off with 5 steak, 2 boats and a saddle.
Per usual, episodes are 16 minutes and are uploaded every other day on the players channels. This Season after Episode 1, PVP was enabled. PermaDay will be enable in Episode 8. Border shrinking start in Episode 8. Following the Final Episode, an Aftercall will be held, and posted following the set schedule.
Episodes
Main Article: List of UHShe Episodes (Season 7)
| Episodes | First Aired | Last Aired |
| --- | --- | --- |
| 8(9) | May 6th 2017 | May 20th 2017 |
Participants
*Bold indicates winner of season
*Italics indicates UHShe debutees
Titles
First to take damage: Shubble (Suffocation)
Last on Full Hearts: Marielitai
First Blood: SalemsLady
First Death: Shubble (PVE)
Most Kills: SalemsLady (3 Kills)
Most Gold: Phoenixgg2 & BasicallyBea
Most Diamonds: Cheridet
First Golden Apple (Crafted): SalemsLady
Best Sword: BasicallyBea (Sharpness 3 Iron)
Best Bow: Phoenixgg2 (Power 2, Unbreaking 1)
Winner: Cheridet
Stats
Player
Kills
Cause of Death
Episode of Death
Ranking
Points Earned
Shubble
0
Blown up by Creeper
3
13th
+1
cybernova
0
Slain by SalemsLady
6
12th
+2
Mousie
0
Slain by SalemsLady
7
11th
+3
BBPaws
0
Slain by SalemsLady
7
10th
+4
SalemsLady
3
Slain by Phoenixgg2
7
9th
+8
stacyplays
0
Slain by Phoenixgg2
8
8th
+6
Phoenixgg2
2
Blown up by Creeper - Indirectly caused by BasicallyBea
8
7th
+9
BasicallyBea
0
Slain by Marielitai
8
6th
+8
Marielitai
1
Slain by Seriiiously
8
5th
+10
Seriiiously
1
Suffocated in a wall -

Indirectly caused by her horse

8
4th
+11
Kaleidow
0
Slain by banoffee2013
8
3rd
+11
banoffee2013
1
Slain by Cheridet
9
2nd
+13
Cheridet
1
Winner
9
1st
+14
Trivia
Horses have been glitchy for some players this season.
Golden Apples heals 2 hearts while Golden heads heal 3 hearts.
Cheridet won in UHShe for the 2nd time.
Cheridet managed to kill Banoffee2013 without enchants.
StacyPlays (organizer) and Mousie are the original participants who haven't missed a season in UHShe.
This is the first time in UHShe that a player (BasicallyBea) goes to the nether.
SalemsLady successfully made an enchanting table in episode 1.
SalemsLady successfully killed Cybernova despite having low health.
MousieMouse successfully built her iconic Boogie floor at 0.0.
MKtheWorst can't compete this season due to moving a new apartment.
RealSquig can't compete this season because she's focus more on her studies.
AshleyMarie can't compete this season because she's in South Korea.
Seriiiously and Cheridet got their first kills in UHShe.
Both of this season's debutees (Phoenixgg2 and MarielitaiWins) got their first kills.
Heyimbee was going to take part this season but, she overslept and missed it. She texted Angie in episode 2 saying "I overslept :("